Publications:
Pore formation and the effect on mechanical properties of High Speed Sintered polyamide-12 parts
24 / 11 / 20
Paper: Understanding pore formation and the effect on mechanical properties of High Speed Sintered polyamide-12 parts: A focus on energy input.
Publication: Materials & Design
Authors: Zhu, Z. and Majewski, C.
This paper provides the most in-depth understanding to date of porosity and pore formation as a result of varying levels of energy input in High Speed Sintering (HSS).
Powder bed fusion (PBF) additive manufacturing techniques have demonstrated high potential for use in sectors as broad as aerospace, automotive, medical devices and consumer goods.
HSS is a novel advanced PBF polymer AM technique aimed at medium to high volume production. It uses a combination of an infrared lamp and a selectively-printed ink absorbing in the infrared region to provide intensive thermal energy to melt consecutive cross-sections of polymer powders.
Internal pores found in PBF parts are known to be detrimental to mechanical properties, but the majority of the research into the porosity of AM parts focuses on laser sintering (LS), selective laser melting (SLM) and electron beam melting (EBM). This study is the most detailed investigation to date relating energy input, pore formation, and the resultant effect on mechanical properties in HSS.
Test samples were produced at different lamp speeds which generated different amounts of energy input. The samples were scanned using X-ray Computed Tomography and then underwent tensile testing.
Pore morphology, volume, number density and spatial distribution were investigated.
The paper states there is: "a strong correlation between energy input, porosity and mechanical properties, whereby pore formation was caused by insufficient energy input.
"A greater amount of energy input resulted in a reduced porosity level, which in turn led to improved mechanical properties." (Majewski and Zhu, 2020).
In addition to this new understanding of the effects of porosity on mechanical properties, this work also identified significant differences between pore position and distribution. Pores in samples with high energy input (and therefore low porosity) tended to be located close to the top, bottom and side surfaces of the samples, whereas lower energy input led to pores being more evenly distributed throughout the part.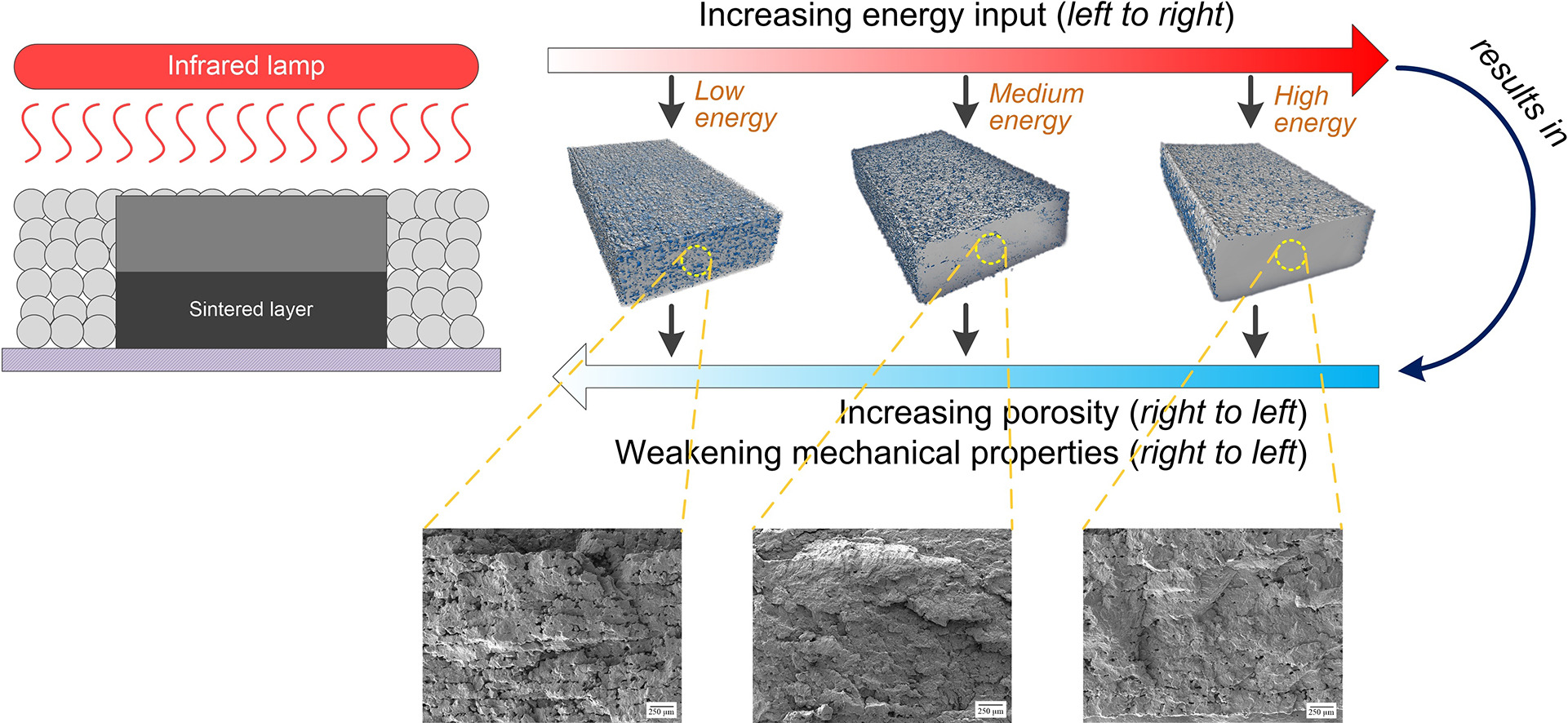 Click here to view the paper.