Conference
Registration is now open for the MAPP First International Conference
A two-day event, including a conference dinner, bringing together world leading experts in particulate and powder science. It will focus on three themes:
In-situ process and performance characterisation
Advanced characterisation
Modelling, optimisation and control
Featured keynote speakers include:
Carolin Körner, Professor of Materials Science and Engineering for Metals, Friedrich-Alexander-Universität Erlangen-Nürnberg
Javier Llorca, Professor of Materials, IMDEA Materials Institute, Madrid
Jin Ooi, Professor of Particulate Solid Mechanics, University of Edinburgh
Tresa Pollock, Professor of Materials, University of California
Barbara Previtali, Professor of Manufacturing and Production Systems, Politecnico di Milano
Fabrice Rossignol, Professor, Ceramic Processes, French National Centre for Scientific Research
Draft agenda (subject to change - this will be regularly updated):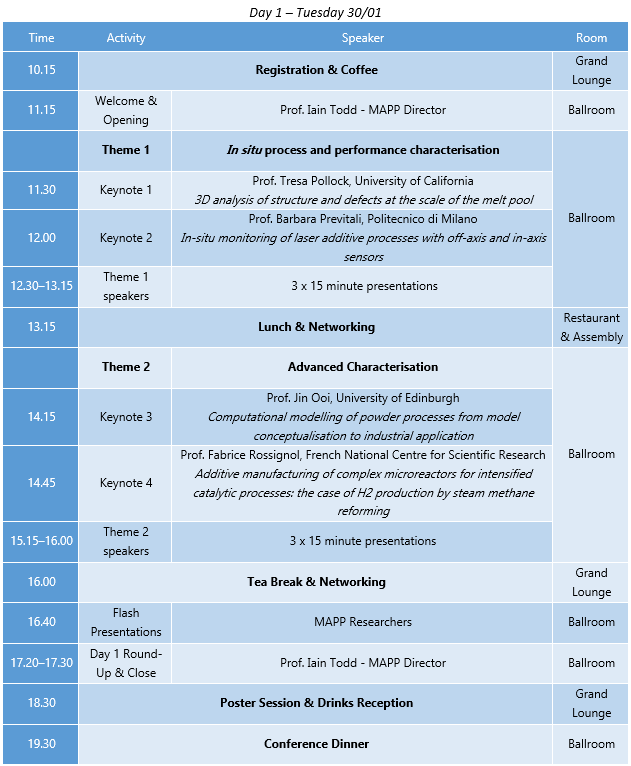 Registration is now open via the University of Sheffield Online Store. To register click here.
We are now accepting applications for short presentations and posters under one of the following three themes: in-situ process and performance characterisation, advanced characterisation and modelling optimisation and control. Click here to download the application form. The deadline for submissions is 29th September 2017.

Bursaries are available for early career researchers and attendees will have the opportunity to learn about MAPP's feasibility funding. To download a bursary application form please click here. The deadline for applications is 29th September 2017.
Sponsorship opportunities are available, for more information please click here.